The CANDLE Study (Conditions Affecting Neurocognitive Development and Learning in Early childhood)
follows a cohort of healthy pregnant mothers from their second trimester of pregnancy through when their children turn 7 years old. CANDLE is based in Memphis, Tennessee and began recruiting participants from Shelby County, Tennessee in December 2006. In June 2011, CANDLE had reached their enrollment goal of 1,503 participants and is still actively in contact with over 1,100 of their original cohort. The CANDLE study is funded by the Urban Child Institute and is coordinated through the Department of Preventative Medicine at the University of Tennessee Health Science Center.
CANDLE collects a wide-variety of measurements on both CANDLE mothers and children, including the psychosocial, nutritional, cognitive, behavioral, and environmental domains, along with biological samples, including hair, urine, blood, placenta, and others.
Primary Aims of the CANDLE study: The CANDLE Study seeks to elucidate factors during pregnancy that can affect the health outcomes of babies, a process referred to as "prenatal programming." Specifically, the CANDLE study is interested in the following aims:
To estimate the effect of in utero exposure to environmental toxins on birth outcomes and neurocognitive development in children's first 3 years of life
To determine if nutrition factors (pre-natal and infant diet) improve cognitive function during the first years of life
To explore psychosocial phenomena and patterns of mothers and children, and to assess effects of intra- and inter-personal factors and social development on cognitive development in children over time
To identify the genetic variants that contribute to mothers and children's responses to the nutrient intake, physical and psychosocial environment, and that consequently contribute to birth weight and neurocognitive development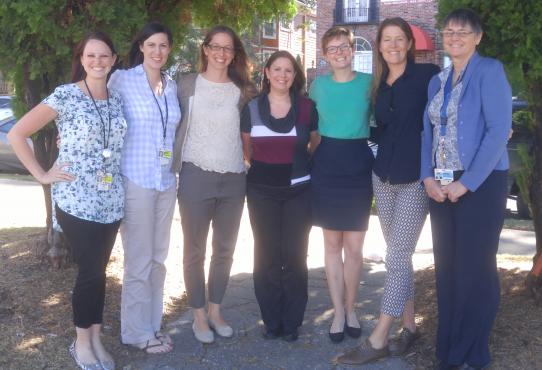 Cohort Information: Sixty-six percent of CANDLE participants are African American, while 31% are Caucasian. Shelby County's is 60% and 27% respectively. Single mothers make up 63% of CANDLE's sample, which parallels Shelby County's 61%. Fifty-six percent of the CANDLE cohort have completed high school, technical school or had 'some' college. Only 12% of the cohort has less than high school education. Twenty percent of the participants have a bachelor's degree, with 11% having a graduate or professional degree. The low-income category of CANDLE's income status is the largest with 58% reporting <$35,000 a year. Eighteen percent of CANDLE participants are middle income ($35,000-$74,999), and 15% are >$75,000, with 9% unknown.
Dr. Bush, along with Dr. Kaja LeWinn, is responsible for co-directing the CANDLE study.  Dr. Frances Tylavsky with the University of Tennessee is the Principal Investigator of the CANDLE study. http://www.candlestudy.com/research/candle-staff
For more information about collaborations with CANDLE, please visit our website at https://candlestudy.uthsc.edu/